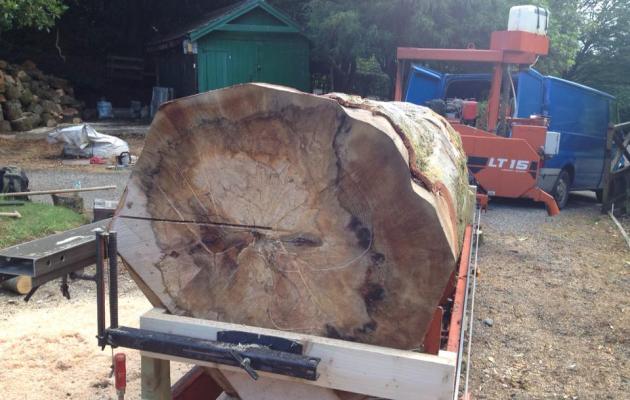 My mill only gets used a handful of days a year so I rely on a few simple hand tools to manipulate the log. Large logs over 800mm may have to be chainsaw milled before they will fit on my bandsaw mill. 
A tree may be milled up appropriately for a specific project, or alternatively milled into a selection of sizes so that the drying process can get underway before a final design is commissioned.
Milled timber is carefully stacked to be air dried for 1 to 5 years. Once air dry and I have a project lined up for the boards, they are moved to my workshop where I have a drying room. The boards are stacked once more and will be gradually dried over a period of around 2 to 8 weeks to a moisture content suitable for use in a modern house, around 8% moisture.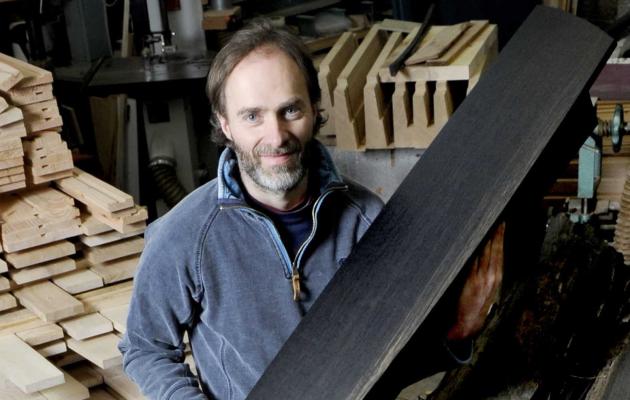 Choosing timber for your project
Following our initial discussion about your bespoke commission, I will usually guide you through what timber stocks I have that are suitable for your project and show you samples or boards. As part of a commission, you're welcome to come and have a rummage too. 
Commission bespoke furniture
This process of using local timber takes a lot of time, experience, hard work and above all space.  It certainly isn't a cost saving measure but I can't imagine not doing it and I think the results speak for themselves.
Take a look at my work